Install
Warning
Android 4.03 and up
Rate this app
Your rating
Description
Suite ofimática optimizada para Samsung Galaxy S3.
READ MORE
Flag this app
Submitting flag...
Good
1
Need Licence
0
Fake
0
Freeze
0
Virus
0
COMMENTS
ADD COMMENT +
Submitting vote...
Submitting comment...
Thomas.darmadhy
Great....
It work to my tablet axioo pico pad gim.
Thanks...
One more, I want to game the amazing spiderman....
Please..........!!!!!!
Polaris Office is
Warning
This classification was assigned because: the application signature does not match the one related to its developer.
- Scanned with Anti-Virus:
No Infections Detected
- Application signature compared with developer signature:
Application signature do not match with signature related to the application developer. Application may have been adulterated.
- About Aptoide Anti-Malware platform:
- Aptoide Anti-Malware platform analyses applications in run-time and disables potential threats across all stores.
- This system scans all the new application files from the stores and certificates them by comparison against other Android Marketplaces.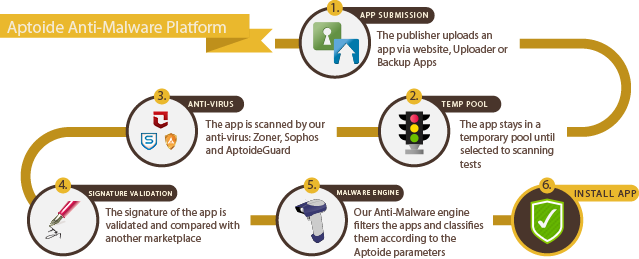 Specifications
Min SDK: 8
Min Screen: SMALL
Supported CPU: armeabi
Details
MD5: d54fb55d5a7ab639737143ec56f51886
Signature SHA1: B0:B3:50:E5:8A:B7:96:D1:74:5A:6C:FB:42:F7:69:19:49:58:1B:C7
Developer (CN): PolarisOffice
Organization (O): infraware
Locality (L): SEOUL
Country (C): [KO]
State/city (ST): Unknown
Permissions
android.permission.ACCESS_NETWORK_STATE
Allows applications to access information about networks
android.permission.ACCESS_WIFI_STATE
Allows applications to access information about Wi-Fi networks.
android.permission.CALL_PHONE
Allows an application to initiate a phone call without going through the Dialer user interface for the user to confirm the call being placed.
android.permission.GET_ACCOUNTS
Allows access to the list of accounts in the Accounts Service .
android.permission.INTERNET
Allows applications to open network sockets.
android.permission.KILL_BACKGROUND_PROCESSES
Allows an application to call killBackgroundProcesses(String).
android.permission.NFC
Allows applications to perform I/O operations over NFC.
android.permission.READ_EXTERNAL_STORAGE
android.permission.SEND_SMS
Allows an application to send SMS messages.
android.permission.WRITE_CONTACTS
Allows an application to write (but not read) the user's contacts data.
android.permission.WRITE_EXTERNAL_STORAGE
Allows an application to write to external storage.
com.sec.android.cloudagent.permission.ACCESS